Submersible Pumps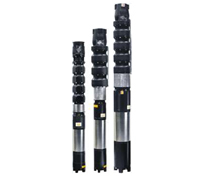 Submersible Pumps
Product Code : 61
Brand Name : Kirloskar
In this field we have got an international repute as one of the leading exporters and suppliers of Submersible Pumps. Our expert agents source these pumps from trusted and reliable vendors of the market. These pumps find application in irrigation, drainage and water supply. Available in different technical specifications, these Submersible Pumps are highly demanded among clients. We offer these pumps at reasonable prices.
Features:
Easy installation
Less noise generation
Longer working life

PUMP MODEL PUMP MODEL

KS6G-0502R KS6DN-0504

KS6G-0603R KS6DN-0505
KS6G-0804R KS6DN-0806
KS6G-1005R KS6DN-1008
KS6G-1306R KS6DN-1310
KS6G-1507R KS6DN-1512
KS6G-1808R KS6DN-1814
KS6G-2009R KS6DN-2016
KS6G-2010R KS6EA-0808

KS6G-0803 KS6EA-1010
KS6G-1004 KS6EA-1312
KS6G-1305 KS6EA-1515
KS6G-1506 KS6EA-1817
KS6G-1807 KS6EA-2020
KS6G-2008
KS6G-2510
"We are providing our products in Punjab, Jammu & Kamshmir, Himachal Pradesh, Haryana only."